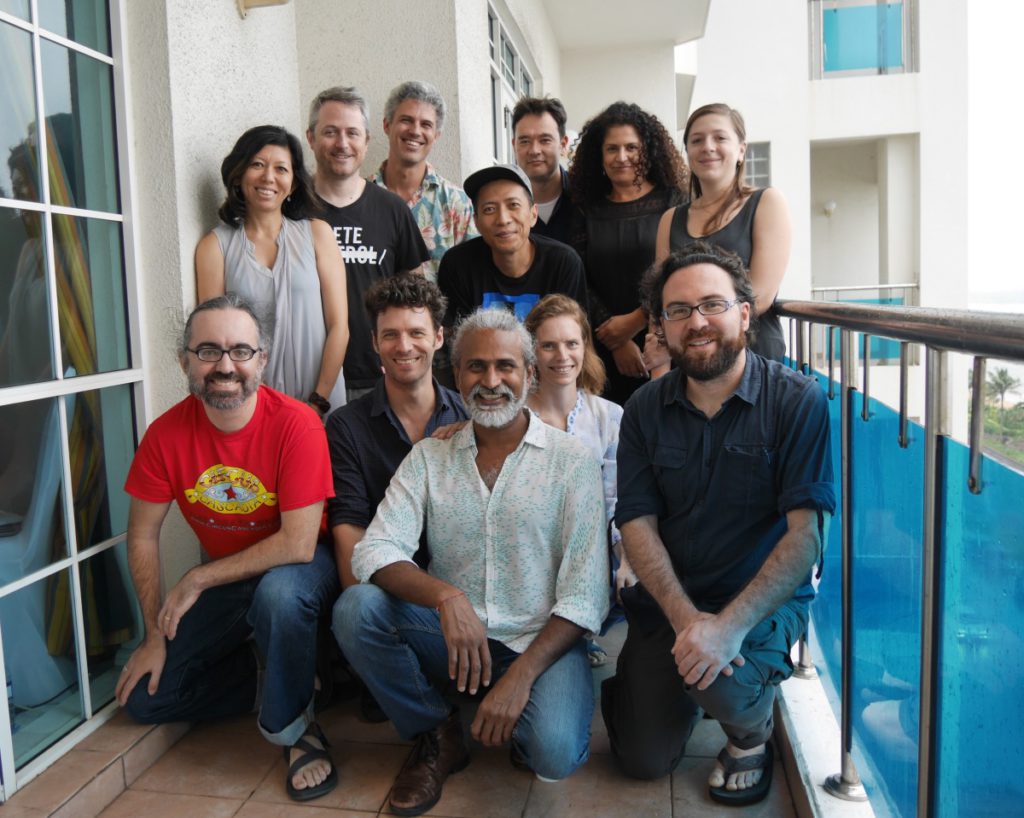 When activists get together, often it's less like a conference and more like a family reunion, so intense are the shared experiences. And so it was at the recent two-day gathering of the Video4Change Network in Colombo, and also at the sessions we organised and facilitated at the Global Voices Summit, where people reminisced about having last seen each other at a participatory video project on an indigenous island in South America, or at a strategy session on digital security somewhere in North Africa, or to design a video training software on yet another continent.
Who are we?
We are today, a Network of 13 organizations; and we hope to grow in time to include many more.
Together as a Network, we represent communities of great diversity who all defend human rights and justice and also use video. Some members' greatest strengths are in using video for empowerment, in working with the world's poorest communities to use video for self-expression or indigenous or human rights. Other members are extraordinary technologists, who understand how to build tools like phone-based video editing software or video security tools and have recommendations on guidelines for the biggest technology firms; others are researching and advocating for correct policies for the use of video in judicial processes or the right to record. Individually none of us has this breadth of expertise; collectively we do. Individually, we work in numerous communities and countries; collectively, we have a reach in almost all continents.
Together, we have the capacity to influence the video and internet sector itself, meaning the tech companies; we also have great reach amongst the poorest communities world, where we can identify and train local communities and help them get a local impact.
What has changed?
As usually happens when friends and family get together, we began by asking: what's changed? Specifically, what's changed in our field of Video for Change since we last met 2.5 years ago?
The last few years have shown that 'democratized technology' doesn't necessarily lead to positive social change – witness the increase of perpetrator videos, the problems of filter bubbles, the growing challenge of knowing what to believe or not to believe, when you're reading online or the way the internet seems to reward hate speech but ignore reasoned speech. The incredible amount of content has not necessarily made it easier to understand the world.
Access didn't magically lead to change; the tools themselves don't carry within them a kind of politics. Though as a community we are happy to see that something materialize which we have fought for so long – platforms where all voices could express themselves and the consequent weakening of corporate control of messaging — we can't just sit idly by and celebrate.
In a nutshell, video has spread everywhere. It's also, arguably, become less trustworthy. And the rise of populism and the crisis of democracy has raised new concerns. The changes we have mapped include new technologies and trends such as Facebook Live storytelling and drone videos. Some of the trends such as data visualisation are moving beyond video.
The negative consequences of so much content and the freedom for anyone to be a content creator
The whole idea of 'seeing is believing' is called into question. The concept is fairly flawed now. People don't 'see and believe' now.
We see now raising voices is not sufficient to enact change, now that the tools are in everyone's hand and the medium is democratized. In order for it to be used for the change, it needs to be in the hands of an activist network. Also, with so many tools, it's hard to know what are the best tools to use.
Fake News
The crisis around fake news is real. There is a growing distrust of the digital medium and no one knows who to trust anymore. How do readers will know something isn't fake? Where was it shot? So it can be used legally. There is a fear that faking images will soon start to appear using technologies like AI.
Hate Speech
We are seeing the rise of hate speech and cyber-bullying. There are many instances of how the internet amplifies the negatives and weakens 'the voices of reason'. Global Voices' Executive Director Ivan Sigal mentioned in a panel at the Global Voices summit 2017 in Colombo:
Reason is not amplified online. The inflammatory sentiment is rewarded and amplified. So online communities that want to foster nation-building thru inclusiveness lose out. There is impunity for hate speech today.
Closing civil space, the crisis of democracy and the global political context
In many places of the world, Human rights defenders and citizen journalists are under threat, and the trend is growing. There's a growing field around vicarious trauma that recognizes that video editors are traumatized by what they see. Shutdowns of the internet, even in Democratic countries like India are more common now than earlier and are getting normalized. In India there were 3 internet shutdowns in 2012; that's risen consistently to 60 in 2016.
Communities are facing more evictions. InsightShare didn't think of itself as a human rights organization a few years ago; now it does because the threats are so great.
'the biggest threat to the health of the internet is the threat to journalism' – Guy Berger, UNESCO from the GG conference
Image: Video4Change session at the Global Voices Summit 2017 in Colombo
The corporate control of the way we communicate
How do civil society networks interact with corporate entities? Digital activists have a role to play in monitoring these network, but there no way we can keep up with the pace of change as we are seeing newer platforms rise.
Filter bubbles
Facebook is the most used platform among many communities we are associated with. But do they respect our digital rights? All the solutions they propose are totally inadequate. These platforms increase surveillance. "The business model of the internet is surveillance" someone important has said. But do we have a viable alternative to Facebook? And how will we get there?
How inclusive of civil society are conferences and approaches, for instance, rating how much civil society participation there is in a particular decision-making process regarding the internet?
Positive trends
There is a growing movement towards the 'Right to Record'.
Media is now the story in the media. There is more awareness of the problems in the traditional way of doing media.
The rural area of the developing world are getting online
Opportunity in the space of training journalists – media companies are interested in citizen journalism. The mainstream doesn't have a cadre of reporters to work with.
There are journalists who want a career in the alternative.
All news organisations want video.
Facebook is becoming a citizens space in some places, such as Kashmir
There is more faith in citizen media now. News organizations are willing to work with it. They don't just say, 'oh the quality is bad we can't take it.'
In this new world, what is the role of the V4C Network?
We need to look towards the future – and that means focusing on video for change; on seeing how the use of video should develop such that more good is created than bad. That is why the V4C Network is so important: because video for change needs to be nurtured within social movements, and social movements are strongest when they work together.
Because the last few years have also proven beyond a doubt something very positive, which is that video is an incredibly effective tool within social movements. Witness the role of video in Black Lives Matter; in the immigration rights movement in the US; in showing the world the horrors of Aleppo and other similar places and keeping the pressure on.
Video for change within social movements works and the Video4Change network exists to bring video for change activists together for mutual learning, and thus to amplify the effectiveness of the video for change movement.